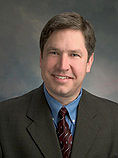 Daniel T. Arnold, Esq.
After graduating from the University of Notre Dame with a degree in management and then a law degree from Indiana University School of Law, Mr. Arnold began his professional career in 1980 as a staff attorney and Estate and Business Planning consultant for the Lincoln National Corporation. While at Lincoln National, Mr. Arnold led Lincoln's efforts to develop their Professional Financial Planning division and their first retail general investments division. In 1984 Mr. Arnold was tapped to become Lincoln National's first Director of Financial Planning Operations.

After expanding Lincoln's Professional Financial Planning division to include more than 30 offices nationwide, Mr. Arnold left Lincolnin 1986 to found his own financial planning and advisory company, Capital Planning & Management Corporation. This company provided personal financial planning services to individuals and small businesses. It was also registered with the Securities and Exchange Commission as an Investment Advisor and provided investment advisory services to individuals, trusts, retirement plans and banks in Indiana, Michiganand Illinois. By 1990 Mr. Arnold realized that the client's that he enjoyed helping the most were the small business owners. As a small business owner himself, Mr. Arnold had developed a special affinity for the unique set of challenges, concerns, and opportunities that confronts the entrepreneur so Mr. Arnold revamped his firm and changed its name to Capital Strategies Group (csg-consultants.com).

Capital Strategies Group is solely devoted to assisting the small and emerging business owner in realizing their goals, dreams and aspirations. Mr. Arnold and the staff of CSG use their combined legal, business, organizational, planning, marketing and counseling skills to assist clients in defining their goals, developing the plan needed to realize their goals and then assisting them in putting their goals in action. Mr. Arnold and the CSG staff's unique background in law, business, finance, and marketing allow them to assist clients in overcoming the many obstacles to success that they will experience along the way.

Capital Strategies Group's original services included planning and advisory services. However, in response to client needs, the Capital Strategies staff now offers assistance in traditional and non-traditional finance sourcing, merger/acquisition representation, general operations, personnel and staffing issues, regulatory compliance, and marketing.

Through Mr. Arnold's career he has earned several professional designations and licenses including the license to practice law before the State and Federal Courts of Indiana, Certified Financial Planner designation and General Securities Representative.